What's in a Real Property Report?
Posted by Ryan McCann on Monday, November 1, 2021 at 4:02 PM
By Ryan McCann / November 1, 2021
Comment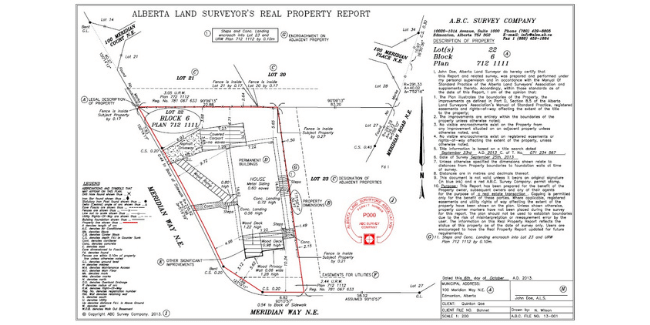 Real Property Reports, Explained
If you're new to real estate, you may not be familiar with a Real Property Report, or what its significance is as part of the buying and selling process for a home in Edmonton.
Basically, an "RPR" is a legal document prepared by an Alberta Land Surveyor that looks something like a map or blueprint of the home; it outlines essential details about the property, including the boundary lines and any structures, improvements or additions that have been made to the site since the current owner built or bought it, such as adding a garage or deck. The RPR is significant for more than that, though. More specifically, as the Real Estate Council of Alberta explains here, an RPR contains all kinds of valuable information for both the home seller and the home buyer, such as:
A legal description and municipal address of the property.
The date of the land title search and the date RPR was done
The Certificate of Title (land title) number and the name(s) of the registered owner(s)
The location and description of all buildings and structures (e.g. decks, fences) with dimensions, directions and distances from the property boundaries
The location and dimensions of any visible encroachments (i.e. buildings or structures that are too close to, or even beyond, the property line)
The designation of adjacent properties, roads, and lanes
Evidence of municipal compliance (i.e. the RPR has been reviewed by your municipality and adheres to all municipal bylaws and regulations. They usually stamp and date compliance directly on the RPR)
Illustrations of any easements that affect the property (an easement is an agreement between the property owner and some other party, like your municipal authority or utility, for them to utilize part of your property as needed)
A Certified Land Surveyor's duly signed certification and opinion on any concerns
The copyright of the RPR to the land survey company
As a home seller, you should consider the cost of an RPR as part of your selling budget, since it is the seller's responsibility to provide a current RPR to the buyer. In addition to a home inspection, a current RPR will tell the home buyer and their representatives (i.e. their real estate agent and/or lawyer) what they need to know about the property in order to make an informed decision about their purchase. It will also prepare the home buyer to deal with any known issues they may need to address once they move in.
Pro tip: If you are the home seller and still have a record of the RPR you received when you bought your Edmonton home, you can reach out to the land survey company that produced it, and ask about getting an updated RPR for your home. Surveyors will often update their existing RPR at a lower cost than commissioning a new RPR to be made from scratch.
As the home seller, once you have obtained your updated RPR, the next step is to submit it to the City of Edmonton or your county to request a Compliance Certificate (report). The City of Edmonton doesn't actually require this certificate in order to sell, but your bank or real estate agent might. More importantly, the compliance certificate will assure the buyer that they will not be legally on the hook for any of the new construction or structures that you added to the home while you lived in it. As the home seller, it will also give you peace of mind that the buyer will not follow up with you later to claim illegal construction was done on the home.
The compliance report will tell you if the home is compliant, non-conforming or neither. If the report says the home is non-compliant or non-conforming, no need to worry: missing permits, as an example, are a fairly common finding and most of the time they can be remedied easily. The important piece to keep in mind is that it's best to get your RPR and compliance certificate in order before you sign any offers - otherwise you may sign an offer that contains a clause requiring that the house be compliant before they buy, and sometimes that can be very expensive for the home seller to fix. If work must be done to the home or permits required to reach compliance, it's best to ask your real estate agent about including a seller's condition of sale, so that you won't be on the hook to make the home comply. To clarify; a home does not need to be brought into compliance before it can be sold, but it may affect the course of negotiations with any potential buyers.
Of course, taking the time to update the RPR and obtain a compliance report is ideal, but all of this assumes that you are selling your home with plenty of time to get all of this prepared before you're ready to sign your first offer. Sometimes that's not possible because a land surveyor may need to be booked several weeks or even months in advance, and a compliance certificate can take up to 10 days to receive. If time is a factor, this is when your real estate agent or the buyer's real estate agent may suggest title insurance as an alternative.
Title Insurance is a type of indemnity insurance (protection against financial loss) that can be applied in case of land title or survey oversights in lieu of an accurate, updated RPR and compliance certificate. Title insurance can be obtained very quickly through your insurance broker, so if time is of the essence to get your home sold before an updated RPR can be completed, this might be an option to consider. Keep in mind that title insurance does not replace an RPR: it is most helpful when an RPR already exists, but is out of date. It can help to bolster the buyer's peace of mind in case something is discovered later about the property's compliance. It will not provide a clear picture of what issues there might be with the property. Also, title insurance is not required as a condition of sale, but an RPR is.
If you're thinking about selling your Edmonton home soon, it's already a good time to review your Real Property Report and see if it needs to be updated, even before you list. For more information about the real estate buying or selling process, please reach out to our team, who will be happy to help!